One account I follow on Twitter is Max, Ollie and Me and a Tweet that has often caught my eye is a Santa Claus tunic button!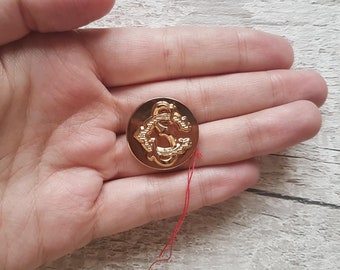 Father Christmas has been!
I am sure we all have distinct memories of Santa having visited and seeing the gifts of mince pies and carrots we left out on Christmas Eve half eaten by the great man himself and possibly Rudolf, maybe it was Dancer, Dasher, Prancer, Vixen, Comet, Cupid, Dunder or Blixem – Nah it must have been Rudolf!
I digress, The Santa Claus lost button to me is the ultimate thing a child could find beside the half eaten gifts.
A true memory maker, something that can be cherished forever and maybe, maybe one day, handed down through the generations.
Such a simple idea and for just £4.80 = P&P a steal.
I placed my order and 3 days later my parcel arrived. Just like a child, i opened the box with great anticipation to find out what was inside, i was not disappointed.
My package, was packaged in what appeared to be two pages from a dictionary, sewn together to hold my gift.
Inside of this was Santa's button in a rather cute gauze bag. There was no mistaking it had come from Max, Ollie and Me, a business card was also sewn to the packaging and the invoice featured the logo, even the bag has a Max, Ollie and Me tag sewn to it.
The button was everything i had hoped it would be a true representation of the original image that drew my attention to it in the first place, even down to a little thread of red cotton.
Like a big kid, i can't wait to see the amazement in my Grandson eyes when we discover Santa's lost button on Christmas morning.
Want your own lost button, check out Max, Ollie and Me Etsy store for this and more amazing gift ideas for Christmas.